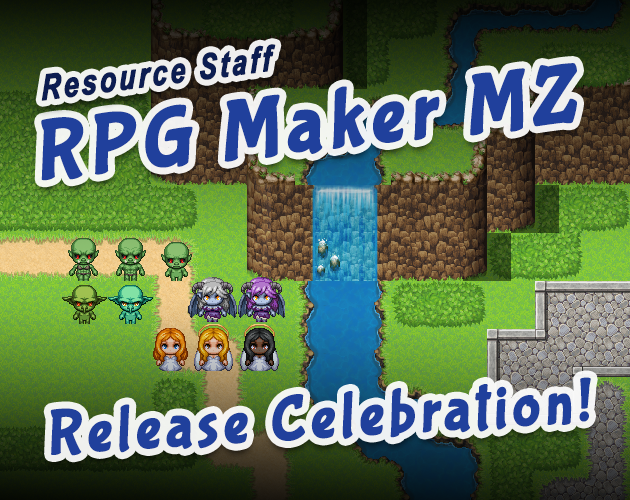 ReStaff RPG Maker MZ Release Celebration
A downloadable asset pack

We don't allow the resources to be redistributed anywhere else.
If you want to share it, please direct them here instead!
Terms of use are added in the zip files themselves.
Thank you for your patronage.

Resource Staff is back to celebrate the release of RPG Maker MZ!
Please enjoy the amazing works of @hiddenone, @Candacis and @Avery!

@Candacis created amazing tiles and demons to use for your game!
Waterfalls have never looked better!

@hiddenone creates Orcs and Goblins with sideview battlers!
Maybe it's time to make a game that have monsters and heroes working together?

And to complete the set, @Avery provides us with angels of different variety!
Including an MZ compatible faceset to boot.
May they guide you in your game making journey, wanderer.


In the meantime, why won't you tell our contributors what you liked,
what you wish for more and some feedback that we can improve on?
Thanks for visiting!

Install instructions
The resources found in this download is only usable in RPG Maker unless you have the artist's permission and is not an edit of RPG Maker resources.
Comments
Log in with itch.io to leave a comment.
Just found this! Thank you! :D
These are wonderful. Thank you!
Genial trabajo!!! Muchas gracias!.